Location
Makuhari Messe is the site of CEATEC 2019 and it is readily accessible from both the Narita International Airport and Haneda Airport (Tokyo International Airport). Getting to Makuhari Messe takes about one hour by bus or train from Narita International Airport and from Haneda Airport. The recommended public transportation option for visitors from Narita International Airport is the Limousine Bus, as there are no transfers necessary.
How to get to Makuhari Messe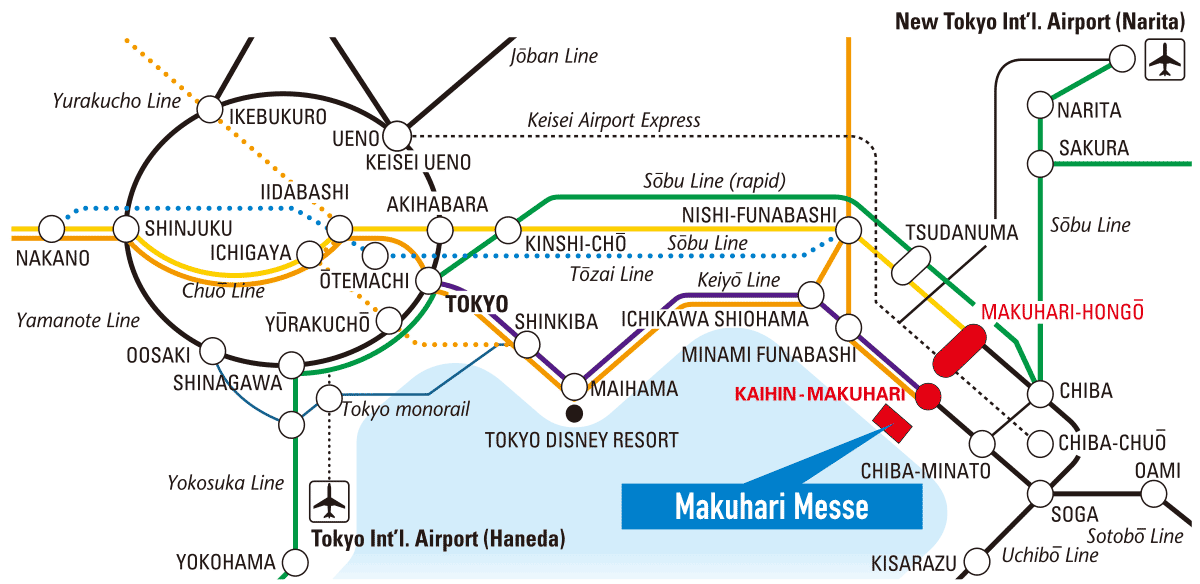 Only 23 minutes by JR Keiyo line Express from Tokyo station to Kaihin Makuhari.
Limousine bus services will be operated from Narita Airport, Tokyo Station, Yokohama YCAT, Haneda Airport to Makuhari Messe.

Links
Haneda Airport

Narita International Airport

Haneda Airport Express user guide(Keikyu Limousine)

Airport Express (Keisei Bus)

Tokyo Subway Map

Railway Transfer Guide

Japan, Endless Discovery

Plan a tour of Tokyo, travel to Kyoto or visit any other Japanese city with handy information on trip planning, culture, festivals, tours, guides, history, and much more. Plan your Japan tour today with Japan, Endless Discovery.

Japanese Restaurant Guide

Gourmet Navigator will help you find that perfect restaurant in Japan!
Just specify your area and desired cuisine for a quick and easy list of choices.

Akihabara Town Guide

The Akihabara Electrical Town Organization welcome you to Akihabara, today's most famous Electronics Town, where you will find a wide range of contemporary electronic appliances at far cheaper prices than anywhere else in Japan.